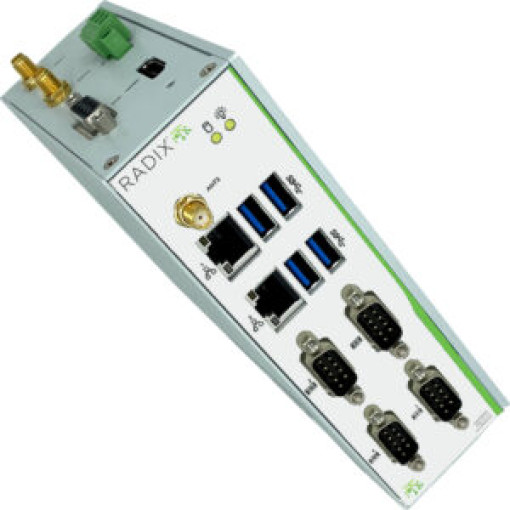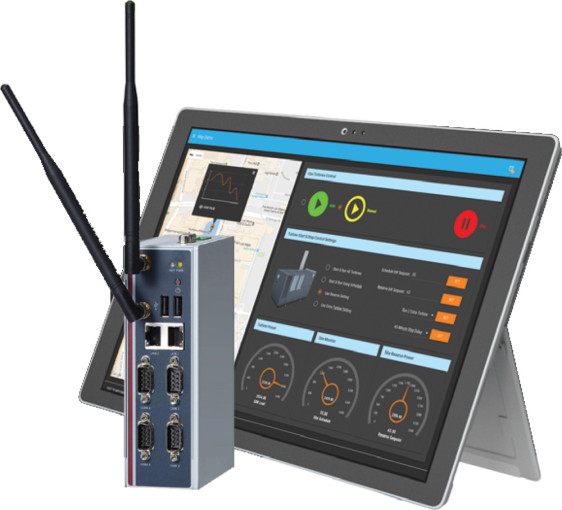 RD 201C
The RD 201C is an industrial IoT Appliance allowing cloud data collection and enterprise edge connectivity within buildings utilizing the facilities.
Fan-less industrial design for long service life
Multiple opto-isolated serial connections and USB 3.0 support
Global cellular native, with an optional backup transceiver
12/24VDC powered via terminal connectors
Simple cloud-based onboarding and configuration with Mango OS or Radix IoT OEM OS
Protocol support for prevailing building systems and protocols
Unified RestAPI support for edge data device aggregation
Integral GPS for location analytics
128GB SSD Local storage for data caching
Two Gigabit LAN/WAN ports
The RD201C Edge Appliance allows for simple deployment into a range of edge applications that require considerable data harvesting or control. The unit offers a myriad of connections and protocols or any applications, and also supports camera-based surveillance as an option as well as the possibility of redundant cellular as an option for mission-critical applications.
Braswell Intel® Pentium®

Low power Braswell Intel® Pentium® N4200 1.1 GHz quad-core processor with 8GB system memory, delivering high performance and low power consumption for mass data acquisition needs from a variety of subsystems within facilities.

Complete digital connectivity

Complete digital connectivity to individual subsystems via two Gigabit LAN ports, two RS- 232/422/485 ports, two USB 2.0 ports, four USB 3.0 ports, and an opto-isolated DIO interface.

Quickly commissions

Quickly commissions via the web interface native connectivity to BACnet/IP, BACnetMS/TP, LonWorks, Modbus RTU/TCP, Serial, and plenty of other protocols for communications.

Mango Cloud

The Mango Cloud platform consolidates, tags, and formats all the harvested data into a single source API allowing remote analytics and visualization platforms to access the entire data collection.

Redundant Capable Global Cellular

Redundant Capable Global Cellular allowing for data backhaul via worldwide cellular networks when Ethernet is not a possibility. Additionally, the unit optionally supports dual cellular for redundancy.

Camera Support

Easily integrate surveillance capabilities of up to five cameras using Mango OS into the RD 201C as well as access control solutions.

GPS Native

Allowing the units to report back geolocation information.
Standard Color
White
Construction
Extruded aluminum and heavy-duty steel, IP30
CPU
Intel® Pentium® processor N4200 (1.1 Ghz)
Part Number
RD201C
System Memory
8GB DDR3L 1866Mhz
BIOS
AMI UEFI BIOS
I/O
Serial Port
4 x RS232/422/485 (COM) with DB9 Connectors
Native Protocols: BacNetMS/TP, ModBus RTU
See Radixiot.com for further serial protocol options
Supports Auto Flow Control in RS-485 mode
USB
4 x USB 3.0
RTC
Battery on-board
Local Storage
SSD 128GB - SATA III 6.0GBit/s
LAN Ethernet Ports
1 x 10/100/1000 Mbps Ethernet
(WAN - Cloud Service Connection)
1 x 10/100/1000 Mbps Ethernet
(LAN - Local Device Network)
Power Input
DC terminal block: 12 - 24VDC Input
(Power supply not included)
Cellular
4G/LTE Global Compliant Cellular Standard
Optional secondary transceiver
(Services fees apply per month for cellular connectivity)
DIO
1 x DI/DO (8-Bit Programmable DB9 Female Connector)
TTL - 5V
External isolation required
DIO programming operation:
- I/O sink current 10mA
- Individual Input/Output programming
Options
RD201WM - Wall Mount Adapter
RDCPM - Panel Mount Cellular Antenna Alternative
RDGPSANT - Magnetic Mount GPS Antenna
RD201DC - Dual Global Cellular
Integral Watchdog
Timer based: 255 levels, 1 to 255 sec.
System Indicator
Power, active
Power Supply
Power Input Rating: 12 ~ 24VDC, 2.82-1.34A
Power Protection: DC Version with Over Voltage Protection +20% Reverse polarity protection
Operating Temperature
-20°C ~ +70°C (-4°F ~ +158°F)
Humidity
0% ~ 95%
Vibration Endurance
2 Gms (5 ~ 500Hz, amplitude 0.35 mm; operation/storage/Transport)
Certificate
CE, FCC Class A
Remote Software
Radix IoT Engine, and Mango OS
Mounting
DIN-rail, wall mount
Weight
1.0 kg (2.2 lb)/1.50 kg (3.3 lb)
Dimensions
48 mm (1.88") (W) x 110 mm (4.33") (D) x 155 mm (6.1") (H)
Unlock your facility and infrastructure data with Mango 5
60-day free trial | No credit card needed